More sustainability in the Inselspital Bern's CSSD thanks to deconex® TWIN xpert
Insel Group Sustainability Award
The Insel Group, a large and important employer in the canton of Bern, takes responsibility for a clean environment and a pleasant workplace by promoting sustainable actions and business practices.
In September 2022, the Group launched a Sustainability Award where employees can submit ideas and projects to promote sustainability in the areas of people, resources, climate, energy, mobility and infrastructure/area. Interest in the prize was tremendous, with almost 40 projects and ideas being submitted. Four projects impressed the panel of judges so much that they were deemed to be of equal merit and won 2nd and 3rd place respectively.

For the Insel Group, which has declared environmental and health promotion a high priority, the award of the Sustainability Prize is a milestone on its way to becoming a sustainable hospital.
---

"It is overwhelming to see how strongly the employees of the Insel Group are committed to more sustainability in their working environment and are contributing creatively with new solutions. We would be delighted if this commitment were to inspire other departments and areas within and outside the Insel Group and encourage them to copy and develop the ideas further."

Nina Tammler, Head of the Sustainability Unit
---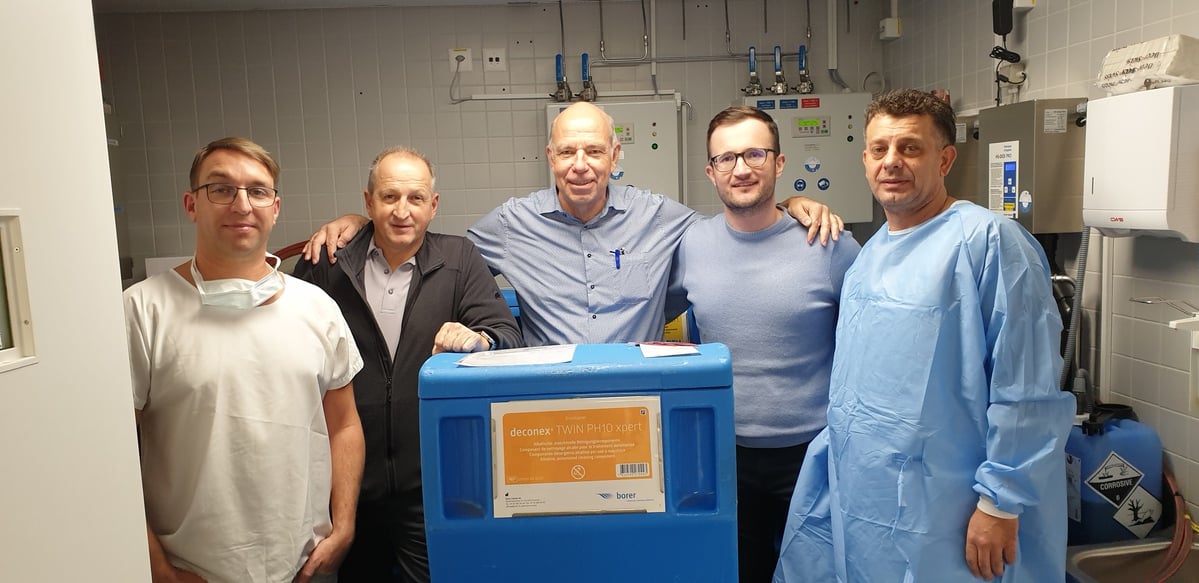 More about our phosphate-free, 2-component cleaning system
deconex® TWIN xpert is the latest-generation two-component cleaning system for the automated reprocessing of medical devices: it is a special formulation containing the latest and most stable enzymes, but contains zero phosphates and is 98% biodegradable (according to OECD 302B).

Thanks to the first-class cleaning performance with a truly remarkable power reserve and the ability to truly match the two components to the reprocessing routine involved, unique cleaning results can be achieved in the washer-disinfector. In addition to ensuring reprocessing quality, the overall costs of reprocessing and the workload of the CSSD staff can be significantly reduced. This enables a significant reduction in the number of medical devices that have to be pre-cleaned manually, or a noticeable optimisation of personnel deployment (an even greater advantage for CSSDs, especially in times of skilled personnel shortages). This leads to considerable savings in overall costs (e.g. water, energy, chemicals), as the case study from the Klinikum Weiden impressively demonstrates.
Especially against the background of increasing supervisory and monitoring activities on the part of authorities such as Swissmedic, compliance with current standards is absolutely imperative. For example, the requirements of the ISO 15883-5 standard must be met with regard to cleaning performance.

From an alert value of 3 μg/cm2 residual protein, CSSDs are required to review their reprocessing procedures. If the critical limit value of 6.4 μg/cm2 residual protein is exceeded, measures to improve the cleaning results must be initiated immediately.

More and more hospital groups are using deconex® TWIN xpert reprocessing procedures to achieve residual protein determinations that are regularly well below the alert value of 3 μg/cm2, thus continuously meeting patient safety criteria.

In order to offer CSSDs in the DACH region with as much support as possible with their reprocessing routines in relation to patient and process safety and to sustainably improve cost savings, Borer Chemie is offering the "Borer CONSULT Process Analysis" service. With an on-site analysis, individual challenges can be identified. Only with customised reprocessing routines can the best possible results be achieved, some of which would have been unthinkable before.
Do you have any questions about the deconex® TWIN xpert system? Our reprocessing experts will be happy to answer them! Contact us on
.